"The very existence of libraries affords the best evidence that we may have hope for the future of man." T.S. Eliot
Support the Fair Haven Public Library
The Fair Haven Public Library has served the community since 1899 and received a New York State Absolute Library Charter granted by the New York State Board of Regents in 1976.  The library has programs for children, youth and adults through internet/wireless access, inter library loan services, books on tape, periodicals, CD's, DVD', large print books, a children's room, eight computers, fax/copy/scanning services in an updated facility – all with a single part-time Director and seventeen volunteers!
Recently, New York State has placed all public libraries on notice that libraries will need to seek other sources of funding such as a property tax provided by the local school district subject to a petition and vote by the residents of the school district.  In turn, local sources of funding such as the county, town, and village have reduced and/or eliminated support for libraries.
The Fair Haven Public Library Board of Trustees has petitioned the Red Creek School District to present an addendum to the present library funding for the Library in a separate proposition at the Red Creek School District vote on May 21, 2019. For a home that is assessed for $80,000.00 the increase will amount to approximately three dollars and fifteen cents.
It is our hope that our community will continue to support the Fair Haven Public Library.
Sincerely,
Henry Spang, President
Matthew Osterhaudt, Randall Lawrence, Joan Spang, Jean Wilkinson
Hours
| | |
| --- | --- |
| Monday | open 2 PM – 5 PM |
| Tuesday | open 6 PM – 8 PM |
| Wednesday | open 2 PM – 5 PM |
| Thursday | open 2 PM – 5 PM and 6 PM – 8 PM |
| Friday | open 2 PM – 5 PM |
| Saturday | open 9 AM – 12 Noon |
| Sunday | Closed |
Story Hour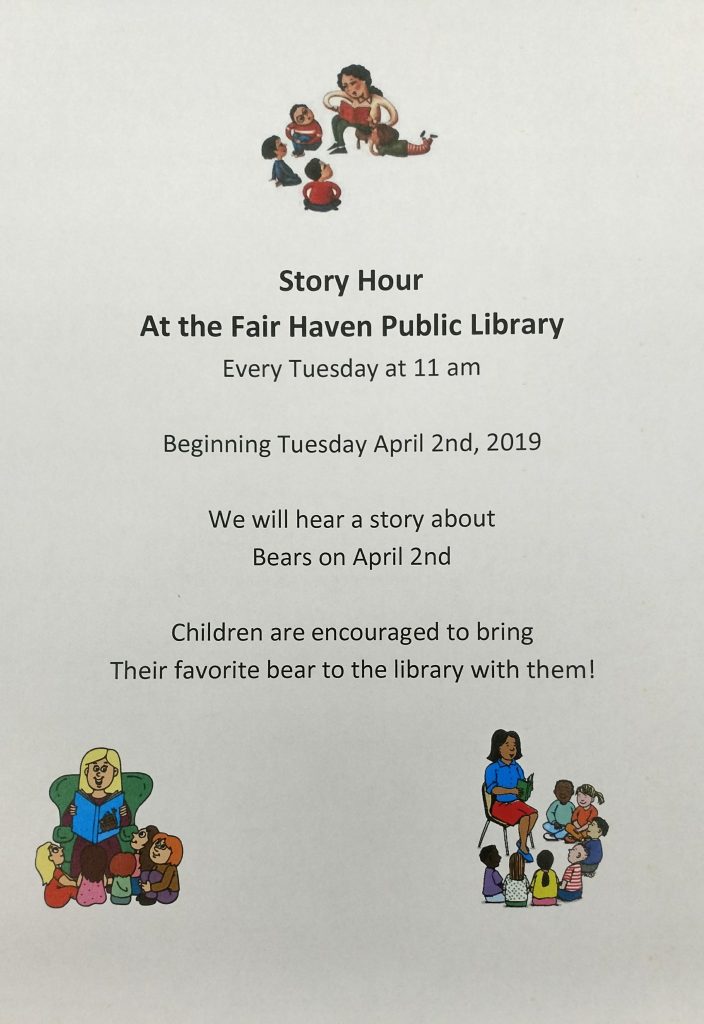 Closed on these 2019 dates
January 1 New Year's
January 21 MLK Day
February 18 President's Day
May 27 Memorial Day
July 4, 5, 6 Independence Day
September 2 Labor Day
October 14 Columbus Day
November 11 Veterans Day
November 28 Thanksgiving Day
December 24 Christmas Eve
December 25 Christmas
December 31 New Year's Eve